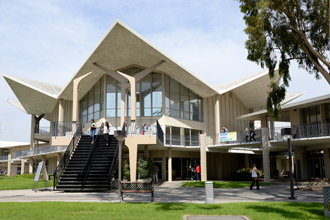 The Hugh and Hazel Darling Library occupies about 15,700 square feet on the main campus in Fullerton where there are over 70,000 books, CDs and videos on the shelves. The library is open 81 hours per week for the convenience of Hope's on-ground students.
However, not all of our on-ground students meet on the main campus. In fact, all of our graduate Marriage and Family Therapy students meet six miles away in Anaheim.
Today, as we continue our celebration of National Library Week, we pay homage to mobile libraries on National Bookmobile Day. Bookmobiles carry a modest collection of books to places where there are no library buildings or to communities that have difficulty getting to a library.
Anaheim City Public Library Bookmobile
Although the Darling Library does not have a
bookmobile
, it does shuttle books using the intra-campus mail van to serve HIU students in Anaheim. We don't have to carry around a van full of library of books, we just transport the specific materials students request.
Those who meet on the Anaheim campus need only to sign up with the library and set up their online account to be able to put books on hold. Requested books are checked out to them and delivered to Anaheim through intra-campus mail. Students may return the books there when they go to class for their convenience rather than having to visit the main campus at all.
All HIU students may put books on hold and choose to have them shuttled to Anaheim (or pick them up in Fullerton) by following the instructions in LibAnswers:
How can I place a book on Hold?