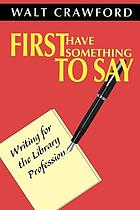 First, Have Something To Say.
I haven't read this book but the title alone is good advice. In it, popular writer,
Walt Crawford
, writes about writing for the library profession. It is a good message because too many of us feel we should be publishing or at least blogging whether we have something to say or not. If we don't we can suffer from inferiority, frustration, or failure. For many in academia, publication is required for promotion and/or tenure so the pressure is on. (Thankfully, this is not the case at Hope.)
But we all have read the words of writers who are not deterred by having nothing of substance to add to the public discourse. This is particularly true of bloggers who are not subject to an editorial process. And since bloggers must post frequently enough to keep the site fresh the temptation is great to just write anything.
I have not written for this blog in few weeks and it's not because I haven't been musing about interesting things (to me). I have been overwhelmed with so many thoughts that I've been afraid of meandering. Maybe it's writer's block but I have gone to Crawford's advice-in-a-title and even Scripture to console myself. "Even fools are thought wise if they keep silent, and discerning if they hold their tongues." (Proverbs 17:28, NIV)
On the other hand, I have been carrying an article around in my purse called
"Academic Librarian Research: A Survey of Attitudes, Involvement, and Perceived Capabilities," by Kristine Brancolini and Marie Kennedy
at Loyola Marymount University in Los Angeles. The article, published in the September 2012
College and Research Libraries
reports on research practices of librarians. It is ironic that while librarians know how to assist others in the research process, we often do not engage in or publish our own research. To address this,
Brancolini, Dean of University Libraries at LMU,
is hosting a "research day" in March 2013 designed to encourage and facilitate librarians in doing research for publication.
I hope that one of the first sessions will be based on Crawford's book.
*~*~*~*~*~*~*~*~*~*~*~*~*~*~*~*~*~*~*~*~*~*~
Robin Hartman is Director of Library Services at Hope International University. She is curious about how the organization and communication of information shapes society and is committed to equipping students to impact the world for Christ.